Behind the scenes of "What Remains" with cinematographer Christopher Blauvelt
Los Angeles based cinematographer Christopher Blauvelt spoke to us about his process for creating the look for the upcoming thriller he shot in southern Finland in late 2021.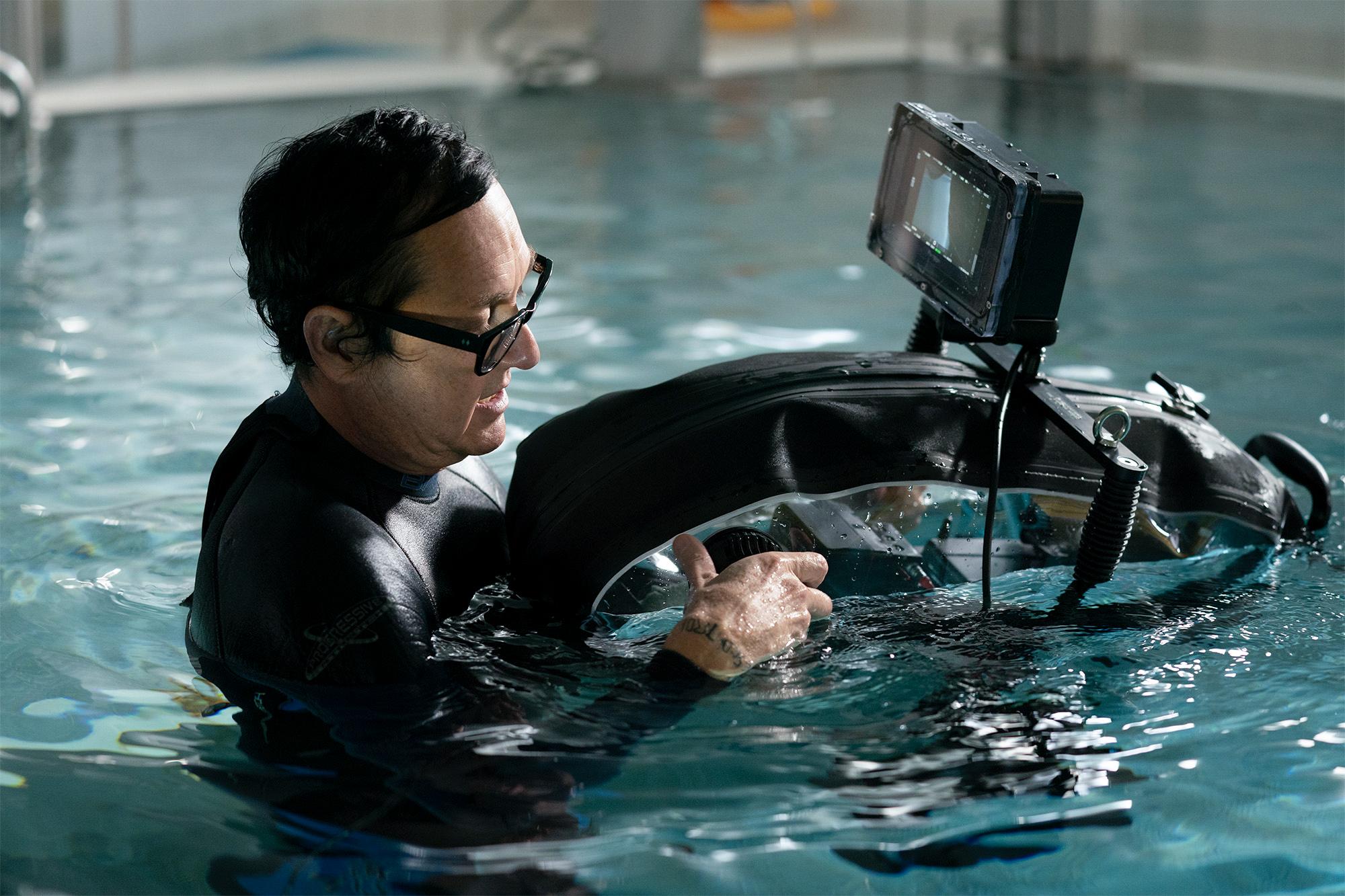 Christopher operating a camera in a Scuba bag.
"Once I got to Helsinki, I immediately wanted to do some testing and asked the team at Kamerafirma to help. They went out of their way to get me all sorts of weirdo lenses and glass. A lot of it I had never seen before, like this crazy conversion Hasselblad chrome lens set that looked like a blinged-out set a drug dealer from the 80's might have had, haha! With the cameras and lenses they supplied to me, I started the process of elimination with our vision in mind. After shooting tests and building LUTs with my DIT Antris and Jussi Myllyniemi from Whitepoint Digital, we would begin to screen them for Ran Huang, the director. This is where we scrutinized our look and eventually found the recipe that matched the aesthetic we were after.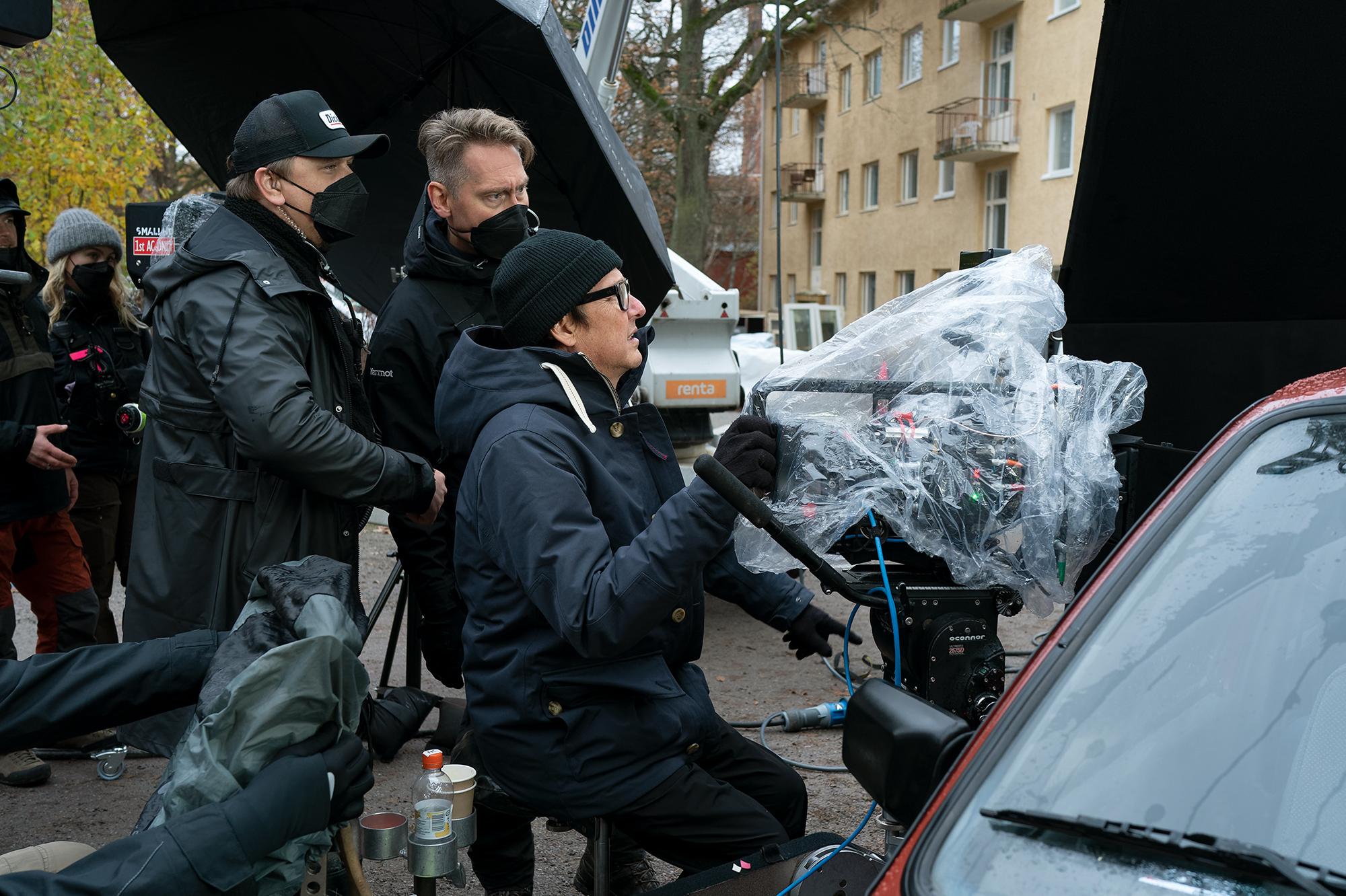 Christopher, 1st AD Andrius Brazas and Gaffer Ville Penttilä on set.
The reflections in this film are not something I gravitate towards on my own unless there is a purpose. In this case, Ran was very much into it as a poetic, visual component to accentuate different emotions he wanted to convey. I found it really interesting and loved helping him achieve this visceral experience throughout our film. We had an eye for things that related to the somber and sometimes intense emotions happening within the storyline. I am more of a purist when it comes to storytelling, and it was really exciting to hear Ran giving purpose to this imagery.
The Finnish production team warned us about the lack of daylight getting more severe, but I still don't think we completely understood until there were only about 5 hours of light in December. Once we got our heads around it, I actually liked it, because it becomes a beautiful extended magic hour. The quality of light in Finland is unlike anything I've ever experienced, and I truly loved the way it looked.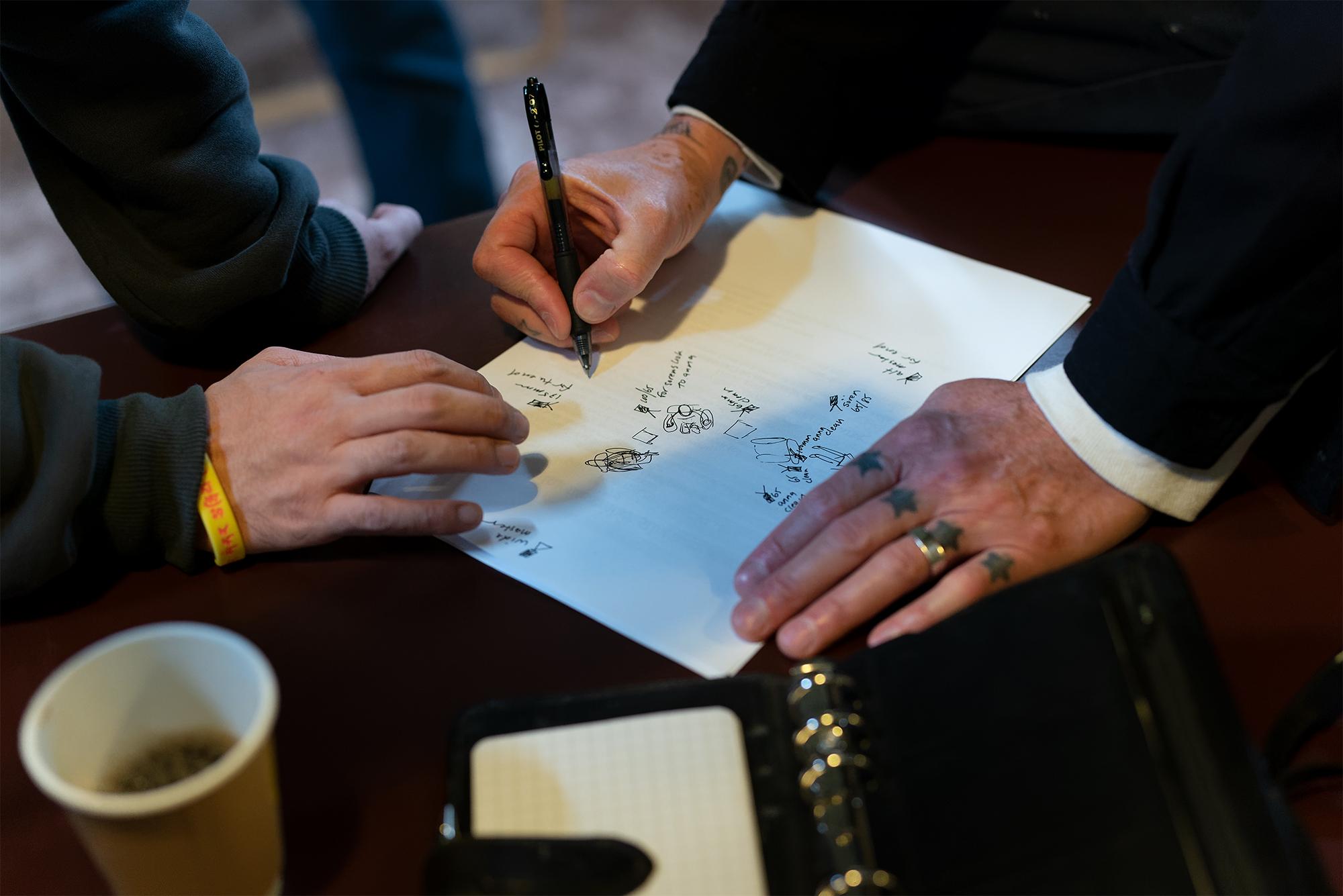 Christopher and director Ran Huang planning a scene on set.
"Working there was similar to working back home in most ways, but there were some differences that I really liked. For example, the heavy electric department that takes care of cutting light, flags, and frames, and a smaller grip crew to support the camera. I had experienced a similar system elsewhere in Europe and in the UK. Another thing I really liked was the weekly HOD meetings after wrap. It's another chance for all departments to say their piece for the following days ahead. I think of this as a good check-in, and it reminds you of the collective approach. I felt a great bond with my wonderful crew and wish them all to visit me in the States in the future. Meanwhile, I will take some of the things I've learned through my experience working there and the good vibes (sisu) that rubbed off on me."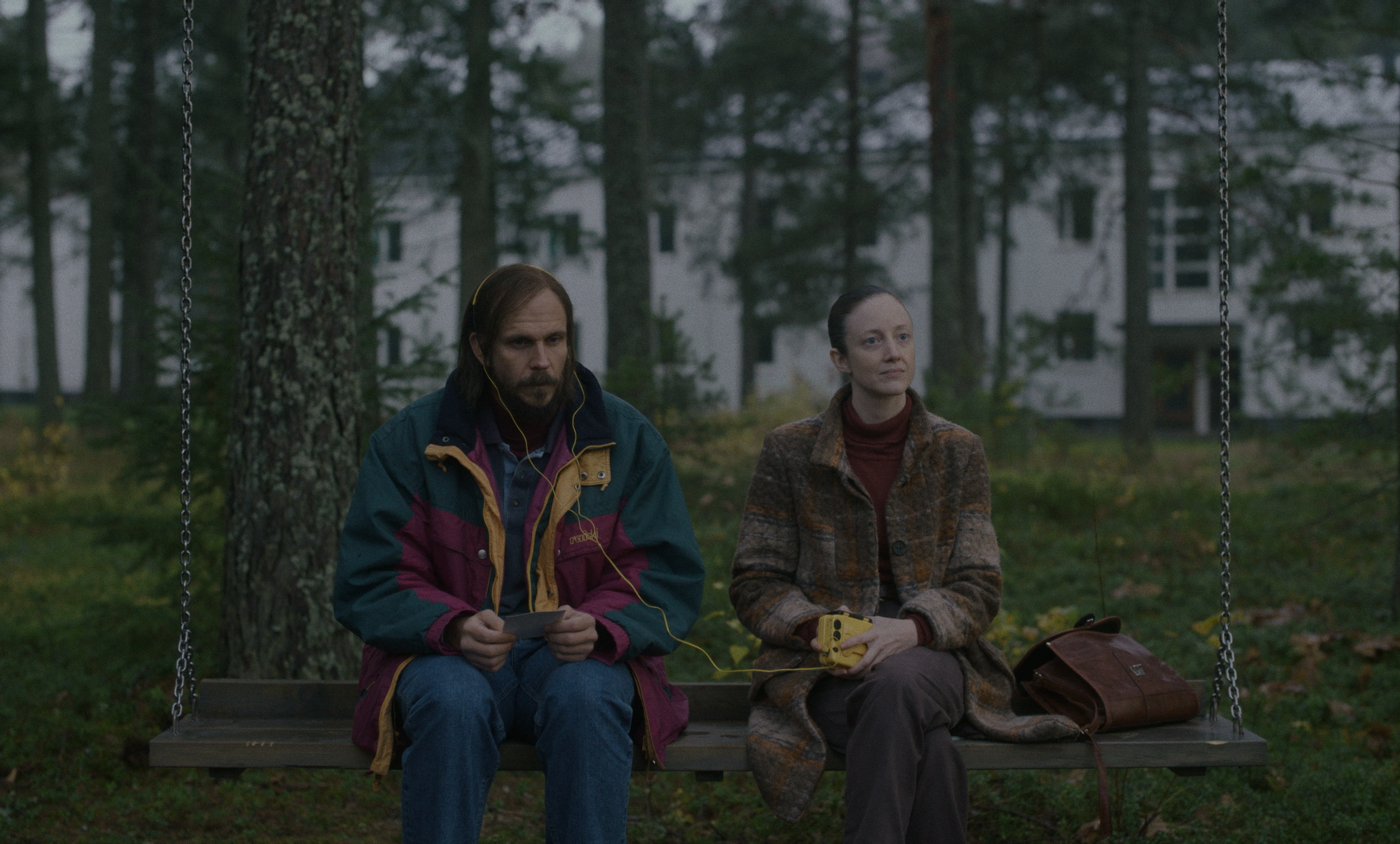 Gustaf Skarsgård as "Mads", Andrea Riseborough as "Anna". Paimio Sanatorium was one of the main locations.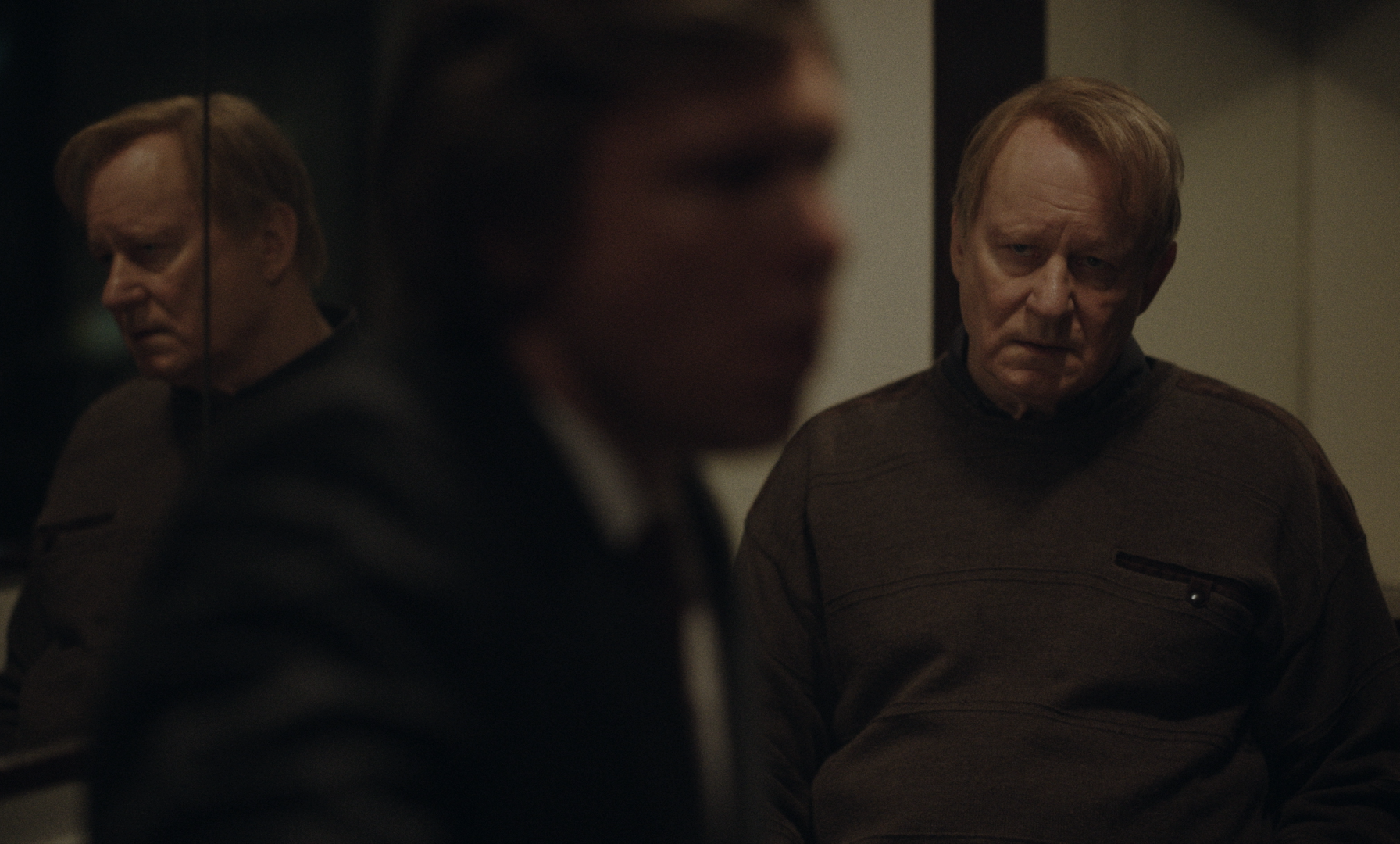 Stellan Skarsgård as "Soren".
All behind the scenes pictures by Sami Kuokkanen / Fake Action Truth.
WHAT REMAINS was shot with our Arri Mini LF and Zeiss Supreme Prime lenses. All camera, lighting, grip, and location equipment was provided by Valofirma. Shot on location in southern Finland during fall 2021.
View the official trailer for the film here.
WHAT REMAINS (2022)
IMDb: https://www.imdb.com/title/tt15825188/?ref_=tt_mv_close
Production company: Fake Action Truth
Production Service: Film Service Finland
Director: Ran Huang
Producers: Ran Huang, Jessica Chen
Cinematographer: Christopher Blauvelt
Assistant Director: Andrius Brazas
Production Designer: Mikael Varhelyi
1st Assistant A Camera: Jami Granström
2nd Assistant A Camera: Nelli Nyman
Gaffer: Ville Penttilä
Best Person: Dan Sykes
Key Grip: Juha Niska
Best Person Grip: Tuire Lahti
DIT: Antris Bonsdorff
Valofirma – The Light House is Finland's leading film equipment rental house. We offer camera, lighting, grip and photo equipment, crew, stages, trailers, and location services.