We have three studios on our premises in Roihupelto, Helsinki – located in the same building as the rental house. Your chosen equipment will be collected and delivered to the studio by our staff. You can get a car in to every studio.
Besides the studios, there are various support facilities at your disposal: make-up rooms, green rooms, a lounge, a kitchen and a sauna. When you make your studio booking, you can reserve the support facilities simultaneously.
Measurements:
Floorspace:         450 m² / 4850 sq. ft
Height:             6 m / 20 ft
Width:              24 m / 80 ft
Depth:              19 m / 62 ft
Door:               228 cm x 294 cm
Electricity:        2 x 125A 3-phase
Chroma Green        18 m x 6 m / 80 by 20 ft
Read more
The support facilities include a make-up room, a wardrobe room, a green room and a prop room which can be reserved when you rent the studio.
The make-up room is equipped with a hairwash chair, shelf space and three large mirrors with lights. The luminosity and the color temperature of the lights are adjustable.
In the wardrobe room you'll find 19 meters of clothes rack space. The prop room is equipped with shelf space, a fridge, a freezer and a water outlet.
Floorspace:         230 m² / 19,2 m x 10,7 m
White:
Height:             6 m / 20 ft
Width:             9,5 m x 9,5 m / 31 ft by 31 ft
Depth:              9 m / 30 ft
Door:               228 cm x 294 cm
Chroma Green:
Height:             6 m / 20ft
Width:              9 m x 9 m / 30 ft by 30 ft
Depth:              11,5 m / 38 ft
Electricity:        1 x 125 A 3-phase
Read more
Studio 2 has a white cyclorama and a green cyclorama at your disposal. We check the condition of the painted surfaces every time before the studio is rented out and if needed, repaint the surfaces. The studio has pre-rigged lighting equipment in the ceiling. The clients only pay for the lighting units they use.
Floorspace:         270 m² / 18 m x 13 m
Chroma Green:
Floor:              9 m x 11 m
Wall:               12 m x 12 m
Door:               238 cm x 300 cm
Electricity;        1 x 125A 3-phase
Read more
Studio 3 has a Chroma Green cyclorama. The joint make-up and wardrobe facilities with Studio 2 plus the kitchen and the green room are on the second floor and can be reserved when you book the studio.
Aalto University is the primary user of Studio 3, but we also rent it to other customers. You can find more information about Studio 3 on the webpage of Aalto University.
LOUNGE
The lounge is equipped with comfortable couches, a home theater system and screening monitors, which can show live feed from studios 1 and 2.
There is also a BNC-connection between the lounge and Studio 1 – so you can bring your customers to watch the production, sitting on comfortable couches, having a nice cup of coffee.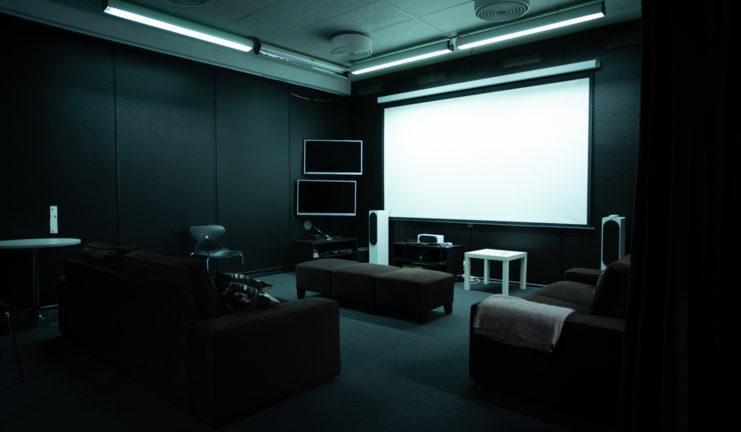 KITCHEN AND DINING AREA
There is a well-equipped kitchen in the second floor of the rental house, with two induction stoves, two ovens, two spacious fridges and a large selection of kitchen utensils and dishes at your disposal. The dining area can accommodate up to 60 people.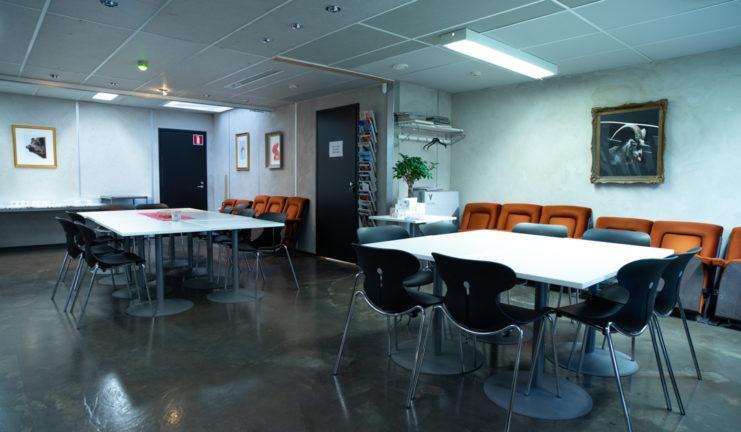 SAUNA
What's better than to have a sauna after a long day of shooting? To the best of our knowledge, we are the only rental house in the world with a private sauna. Our sauna is equipped with an "Always-Ready-To-Use"-stove, ready to be enjoyed 24/7.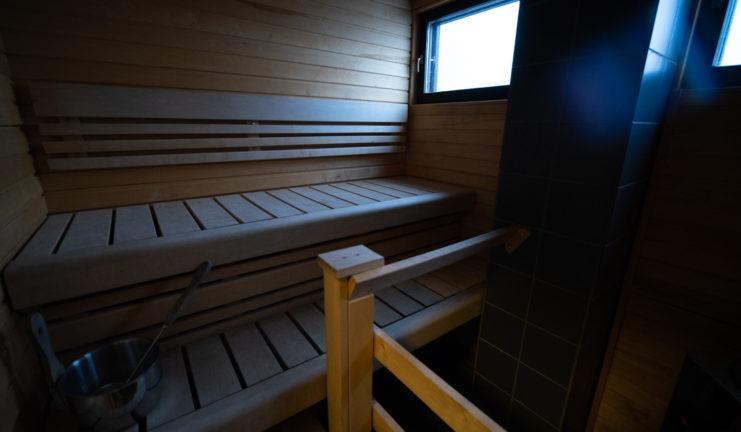 There are no products in the cart!