New Profoto Pro-11 flagship is here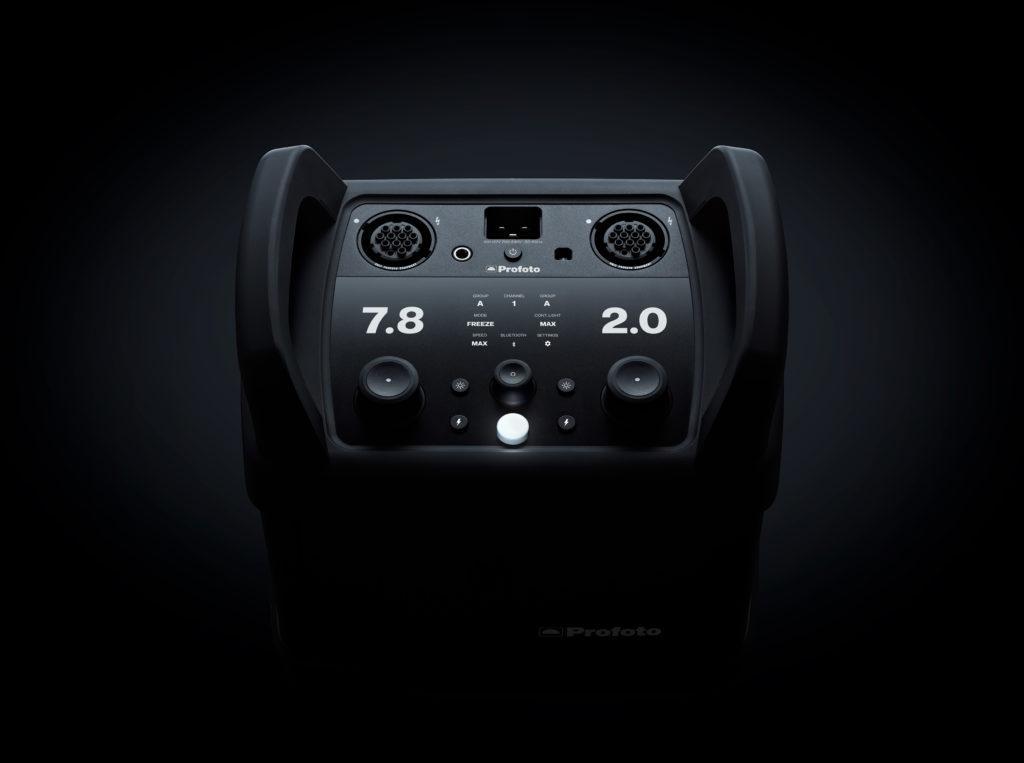 Profotos new Pro-11 continues the well known lineage of powerful and groundbreaking studio packs. Pro-11 brings to already impressive ruggedness, speed and reliability  a new feature of AirX which enables the photographer to have control of the pack on their fingertips via bluetooth and makes the pack easy to keep up to date with latest features.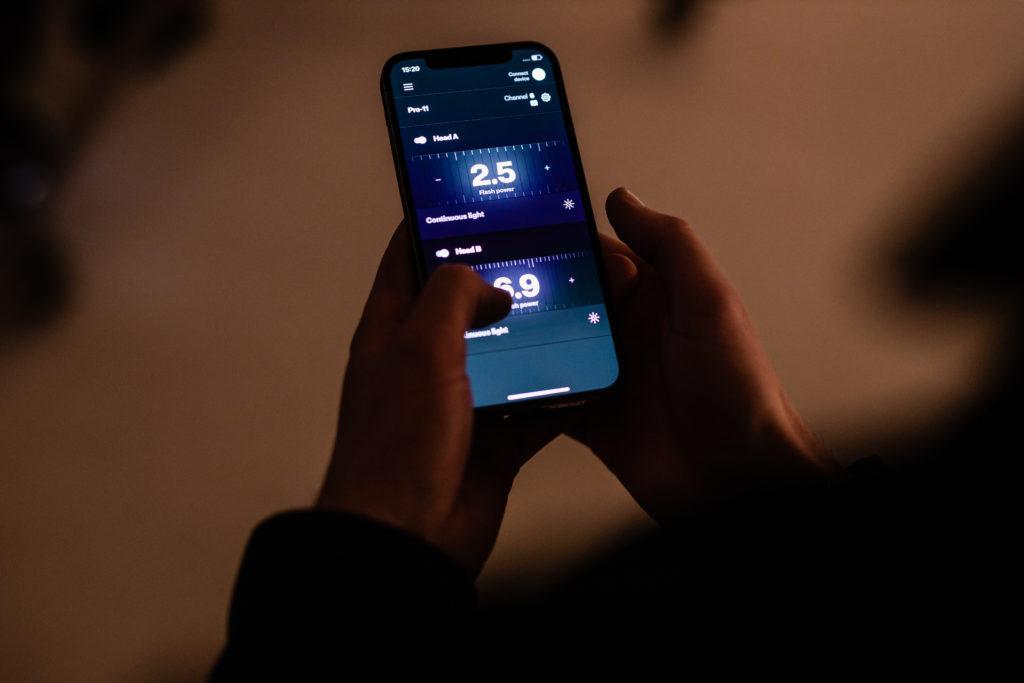 You can access all the features of the pack remotely with Profoto App.
Profoto Pro-11 pack is rentable now!
Here's more info:
Profoto Pro-11
The ultimate flash
Power, speed and connectivity
The world's fastest flash is evolving thanks to Profoto's unique AirX technology. So not only do you get industry-defining speed and power with a superior flash duration of up to 1/80,000s. But you also get a flash with cutting-edge user experience that is always up to date with any type of camera, even the one in your smartphone. Add to that unrivalled consistency and volume shooting capabilities, and you have Profoto's flagship flash.
Up to 1/80,000s
0.02-0.7s
2400Ws 11 f-stops
Connect with remotes and apps
Profoto AirX
Overview
901011
High volume studio photography
Fashion, Action, High Speed
Flash
2400 Ws
11 f-stops (2.4-2,400 Ws)
Energy control increments
1/10 or full f-stops
0.02-0.7 s (quick burst capability up to 50 flashes per second)
Freeze (shortest flash duration) or Normal (color balanced) mode
Normal mode: 1/800 s (2,400 Ws) – 1/12,000 s (2.4 Ws)
Freeze mode: 1/1,000 s (2,400 Ws) – 1/80,000 s (2.4 Ws)
Normal mode: 1/400 s (2,400 Ws) – 1/6,500 s (2.4 Ws)
Freeze mode: 1/600 s (2,400 Ws) – 1/17,500 s (2.4 Ws)
± 1/20 f-stop
Normal mode: ±100 K over range. ±50 K flash to flash
Freeze mode: ±1500 K over range. ±150 K flash to flash
128 with ProHead Plus and Magnum Reflector
Yes
Yes
Modeling light
Max, Prop, Off
2 x 500W
Profoto AirX (Bluetooth Low Energy technology)
Air: 2.4 GHz (2404 to 2479.3 MHz)
Bluetooth: 2.4 GHz (2404 to 2479.3 MHz)
Air: 19.9 dBm
Bluetooth: 8 dBm
No. of frequency channels
Air: 20
Bluetooth: 40
From Profoto remotes (Air): Up to 300 meters From mobile devices (Bluetooth): Up to 30 meters
Additional connections
USB 2.0 Type B port (service port)
¼ sync socket. Compliant to ISO 10330 standard.
Powering
100-127 V / 200-240 V, 50/60 Hz (nominal)
Automatic fuse characteristic C 13A / 200-240V, 15A / 100-127V
Miscellaneous
Yes
Yes
Photocell/IR-slave and switch
Yes
Measurements
21 cm / 8.3 in
29 cm / 11.4 in
30 cm / 11.8 in
13.2 kg / 29.1 lbs
The ultimate flash
In addition to being the world's fastest flash, the Profoto Pro-11 is the world's most advanced flash thanks to Profoto's proprietary AirX technology. When shooting with the Pro-11, one real-world benefit with the built-in AirX comes clear; the higher degree of convenience and control available to you on the day significantly improves workflow. And via the Profoto apps, you'll get real-time updates and upgrades, so your user experience will always be the latest, and you'll have an overview of all your Profoto gear.
That said, beneath the Pro-11's ruggedly beautiful exterior is a beast of a flash; delivering consistently outstanding performance that allows you to freeze moments in time in unprecedented detail and clarity. This really is the ultimate flash.
Why choose the Pro-11
Breathtaking speed and power
The Pro-11 boasts record breaking speed in its capability to keep flash duration and recycling short across the full power range. It easily matches the fastest cameras making it easy to capture crisp, sharp images from a series of super-fast exposures.
Impressive precision and control
With an 11 f-stop power range at your fingertips you'll find it easy to set the light you want. It's adjustable in 1/10 f-stop increments from 2.4 up to 2400Ws, and you have independent control over each head. Everything you need to shoot with power and precision from shot to shot.
Easy to use with clear and simple controls
Simplicity is everything. So the Pro-11's user interface is super-straightforward and intuitive with a new bright, clean and clear display. And we've kept buttons and dials to the absolute minimum with three large, rubberized dials. As a result, changing settings is easy, even in the dark.
Future proof connectivity with Profoto AirX
With the built-in Profoto AirX connectivity you can use the Pro-11 with any camera type, including your smartphone. With Profoto apps you can also enjoy smartphone remote control and access wireless updates for your Pro-11 firmware the instant they are released. So you can rest assured that you'll experience seamless compatibility with both current and future cameras and Profoto products.
Built to last with consistent performance
Pro-11 is designed to shoot at high volumes with incredible consistency. Built with uncompromising engineering and craftsmanship, it's so rugged and durable, it'll still be performing at the highest level in years to come.
Creativity and versatility
Pro-11 enables you to combine its speed, power and control with multiple compatible flash heads and over 120 light shaping tools. With all this at your disposal, your creative possibilities are endless.
Creativity without compromise
Beyond the ability to freeze a moment of action or to match the fastest camera shutter the Pro-11 is about providing the image creator with the ability to realize even their most ambitious ideas. To enable them to take light, and shape something remarkable with it. To create stunning images and capture the finest detail in its purest, clearest form.